I was invited by Dobrica Kamperelic (mail art / performance) to play 'in vivo'
in Belgrade (Serbia) as part of the 2005 Open World - Open Mind Festival.
This happened in October 2005: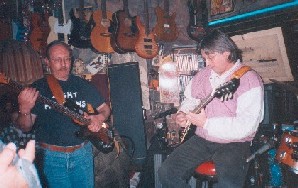 Joe Fleury (Bidoche Musique) and Dragan Djordjevic ('Macan')
in jazz club RIF, Belgrade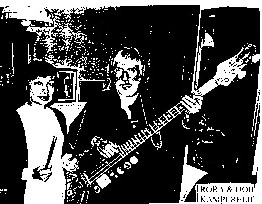 Rorica + Dobrica Kamperelic (with
my left-handed bass guitar)
It was a great experience and I met some fantastic people.
Joe Fleury
contact: Open World Magazine
Rorica & Dobrica Kamperelic
Ustinicka 152/73
11050 Belgrade
Serbia
*****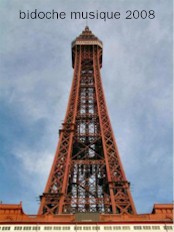 Bidoche Musique (bass guitar) played with a backing cd* by M. Nomized, France
(*The Last Respiration, 2007) at the following venues in England:

March 7, 2008 - Preston (Lancashire) - The Mad Ferret (pub)
March 8, 2008 - Lancaster (Lancashire) - Yorkshire House
March 13, 2008 - Blackpool (Lancashire) - Raikes Hall
March 14, 2008 - Leeds (Yorkshire) - The Common Place
March 15, 2008 - Bacup (Lancashire) - Bacup Football Club
March 16, 2008 - Manchester (Greater Manchester) - The Klondyke Club

on The Ceramic Hobs' 2008 "No Safe Words / Tea for Alice" Tour
The Ceramic Hobs live
with a fixed line-up of two performance acts from Blackpool:
Heffalump Trap and The Ceramic Hobs.
Other bands joining us were: Baboon, Gonzoid, The Drop-Out Wives,
Mrs. Cakehead and a trumpet/bass guitar noise-rock duo from Manchester.

see: www.pumf.net for information on the Ceramic Hobs.

I loved it and hope that one day, I will return and play some more.
Thank you, Stan, Simon, Kate, Ging, Phil, Mr. Concrete, John, Lawrence, Rooh and Keiran.
+++
Ars in Actio Festival, Belgrade, Serbia (2008)
Well I was back in Serbia for another Open World-Open Mind Festival in July 2008
but under another label, "Ars in Actio" (Action Art Festival, Belgrade).
The last time I saw Dobrica, he was throwing insults in my direction after
being in his presence for about 3 days and for the rest of my stay, I stood clear
of him. This time was a repeat performance and I won't bore you with the details.
He was the artistic director of the festival.
Great audience at the University Housing Complex.
After the show, I gave away about 20 cd's*
[*C.I.I.A. - Charter of International Independent Artists + M. Nomized]]
+++